It is our great pleasure to invite you for the 2nd Bone Marrow Adiposity (BMA) meeting that we will organize on the 25th and 26th of August 2016 in the Kunsthal in Rotterdam, the Netherlands.
Bone marrow adiposity: an emerging field!
Last year August, a two-day meeting on Bone Marrow Adiposity (BMA) was held in Lille (France) (http://www.ncbi.nlm.nih.gov/pubmed/26608519). The meeting was co-organized by Pierre Hardouin and Pierre J. Marie and hosted at the University of Lille. This is the first time that an international meeting covering all aspects of this emerging field was organized. The underlying idea was to give the opportunity for physicians and scientists from different fields (bone metabolism, cancer, obesity and diabetes) and interested in BMA to share their results and to exchange their views on the (patho)physiological role of bone marrow adiposity. There were over 120 delegates from fifteen countries who attended the two-day meeting. The conference turned out to be very successful and grant-supported initiatives are underway to further promote collaboration.
The basic principle of this meeting is centered on the fact that bone marrow adipocytes are not simply fillers to occupy space in the bone marrow but rather that marrow adipose tissue represents a dynamic depot, intimately involved in bone remodeling, hematopoietic stem cell differentiation, whole body energy homeostasis and neoplastic homing and metastases. Recent advances in understanding the origin and function of BMA have been dramatic, as was the need for more research. In view of the topics of this meeting, with the type of participants ranging from clinicians to scientist and health care professionals, we think that this is a great opportunity to attend this meeting.
Mission and Purpose: The objective of this meeting is to extend knowledge on this emerging field and further foster exchanges between researchers sharing interest in that field. We wish to provide an interactive mood and to favour international collaborations.
Format: In this two-day meeting world experts in this field will present and discuss many issues of interest related to BMA such as the phenotype and functions of bone marrow adipocytes, adipogenic differentiation, the microenvironment of bone marrow adipocytes, the characterization and imaging of BMA, the physiopathology of BMA, the involvement of BMA in osteoporosis, diabetes or malignant diseases, and therapeutic perspectives.
Venue: The meeting will be organized by researchers from the department of Inernal medicine within the Erasmus Medical Center in Rotterdam. Erasmus The Kunsthal in Rotterdam is one of the icons of modern architecture and is home to many temporary exhibitions along with a splendid auditorium for conferences (http://www.kunsthal.nl/en/about-kunsthal/building/). It is conveniently located in the city center and next to the biggest Academic Hospital of the Netherlands, the Erasmus MC.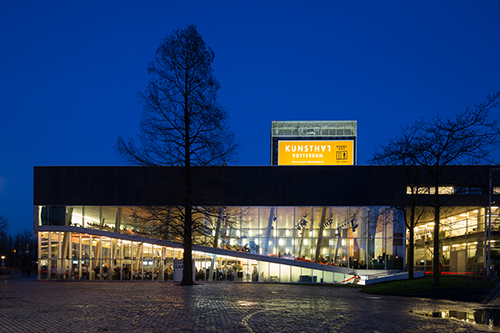 Important note: Please visit the other pages for information regarding registration, the program, the invited speakers, our sponsors, hotel accommodation and the city of Rotterdam
Welcome to Rotterdam!
The local organizing committee:
Bram van der Eerden, Jeroen van de Peppel, Marjolein van Driel and Hans van Leeuwen
Contact:
Erasmus MC, department of Internal Medicine, room Ee585
Wytemaweg 80
3015 CN Rotterdam
The Netherlands
Tel: +31-10-7032841
Fax: +31-10-7044862
Email: BMA2016@erasmusmc.nl
Website: http://adiposity.sciencesconf.org/